By Kevin Davis | Podcast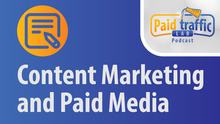 Many people think content marketing and paid marketing are mutually exclusive.  They often feel if I am running paid traffic on platforms like Facebook, why do I need to be creating content.
In this episode we talk about the benefit of investing the time in content on top of funnels and paid media to get the best results from your paid traffic campaigns.
Continue reading